The Reykjavik Music Walk
Discover the landmark sites of Iceland's incredible pop and rock history
"A cultural institution" – Dagur B. Eggertsson, mayor of Reykjavík, 2019
"This man knows his apples" – David Fricke, Rolling Stone editor, 2018
"Excellent way to get to the heart of the Icelandic popular music scene" – Prof. Simon Frith, 2017
"Horns up!" – Meshuggah, 2017
An informative and entertaining one and half hour tour, detailing the acclaimed Icelandic popular music scene, guided by Iceland's foremost popular music scholar.

The tour focuses on Iceland's pop and rock history and the landmark sites that have contributed to it's remarkable success abroad. E.g. the downtown practice spaces of Bjork and The Sugarcubes, concert halls used by early career Sigur Ros, historically important live venues and artist's hangouts. The walk is guided by Arnar Eggert, Iceland's foremost popular music historian and journalist. Arnar can answer any questions that people might have about the fertile Icelandic music scene.
Probably the best walk in the world.
We leave from Harpa . The price is €35 per person.
For availability and dates, book here: https://www.airbnb.com/experiences/594116
Questions, special bookings: reykjavikmusicwalk@gmail.com
Arnar Eggert Thoroddsen (b. 1974) succumbed to the magic of music at the tender age of fourteen and hasn't looked back since. Having finished his B.A. degree in sociology in 1999 (with a thesis on The Simpsons, the closest he got to "music" at the time) he started work as a music journalist for the long standing daily Morgunblaðið, a position he still holds. It wasn't long before he had interviewed every Icelandic musician twice (remember, this is a small country) and his in-depth knowledge of every twist and turn in Icelandic musical life and it's psyche has resulted in three books on Icelandic music with the fourth in the writing stage (will be published by the U.K. publisher Reaktion Books/The University of Chicago Press). His experience in "the field" extends to DJ-ing, various band activities and concert promoting and he has a music radio show in the Icelandic National Radio. He has been a member of numerous jury panels and boards, both at home and abroad, and is also a regular commentator on music in television, radio and other media in his homeland. Arnar is also a music academic and earned his Master's Degree from the University of Edinburgh in 2013. He is currently a PhD researcher at the same school, carrying out work on the social dynamics of Icelandic musicians under the supervision of Professor Simon Frith. Arnar is currently the director of the undergraduate media and communication studies programme at The University of Iceland (The Faculty of Social and Human Sciences).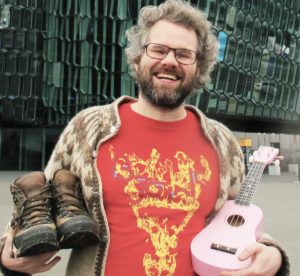 INSTAGRAM @reykjavikmusicwalk